Filichia Features: The Funny Indestructible Musical
Filichia Features: The Funny Indestructible Musical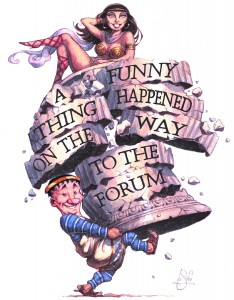 As soon as the lights came up for intermission, my buddy Jay Clark immediately snapped, "Listen, I know you have to stay – but I don't. I'll wait in the car."

Actually, the recent production of A Funny Thing Happened On The Way To The Forum at The Stoneham (Massachusetts) Theatre didn't hit me the way that it had assaulted Jay.

I fully understand why a purist would question some of co-directors Weylin Symes and Ilyse Robbins' broad choices. But aside from Jay (and I guess a few others), the raucous laughter that poured from the near-capacity crowd made clear to me that Funny Thing will always be a funny thing, no matter what anyone does with it or to it.

Jay took issue with the dropping of the Overture, but I'll take issue with that. One of the most famous stories in musical theater history involves Funny Thing's originally opening with a sweet little song which didn't inform theatergoers that they were about to see a slam-bang musical comedy tonight. Composer-lyricist Stephen Sondheim has sworn to me (tape available on request) that after "Comedy Tonight" went in, no moment of the show was remotely changed and yet suddenly theatergoers were convulsed with laughter.

Fine – but Funny Thing's original Overture doesn't point the way to an "uninhibited romp," as Howard Taubman called it in the New York Times. Orchestrators Irwin Kostal and Sid Ramin collaborated on a standard boiler-plate Overture of its era. It starts with a business-as-usual flourish (from "Free") which segues into a VERY sincere "Love, I Hear" -- as if to say "Here's our beautiful hit ballad, folks."

Ah, but "Love, I Hear" was never intended to be earnest. A few minutes later, theatergoers would learn that it was written as a semi-spoof. No true ballad would include a lyric as smile-inducing as "Today I woke too weak to walk."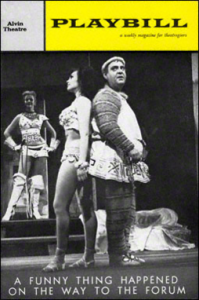 The Original Playbill of A Funny Thing Happened... (Alvin Theatre, 1962)

Don't misunderstand: it's absolutely brilliant in managing to begin with three "to" sounds and end with three different vowels for words beginning with "w" and concluding with a "k" sound. But from the way it's played in that Overture, you'd think it was "The Love Theme from A Funny Thing Happened On The Way To The Forum."

And after that comes a samba (of "Lovely"), a musical style that was not only unknown in ancient Rome, but also one that suggests lush romanticism. Again – not funny.

Not until the Overture comes to its next selection -- "Free," which continues through the end -- is there much of an indication that there'll be comedy tonight. So there's something to be said for dropping the Overture. Besides, getting quality musicians isn't easy, so having not-quite-virtuosos playing many clams causes theatergoers to immediately lose confidence that the show is going to be good.

That more women tend to audition than men may well be why the directors chose Liana Asim for Marcus Lycus and Jenna Lea Scott for Erronius. On the other hand, Symes and Robbins decided to have one of their male Proteans double as Gymnasia. Despite his donning blonde braids, his facial hair showed there was no real attempt to hide his masculinity. The audience loved the we're-not-trying-to-fool-anyone gambit.

But this does put a whole new layer on the scene, for Gymnasia is the one lass to whom Pseudolus is the most attracted. Hence, the Pseudolus of Neil A. Casey dutifully showed his lust for the guy. Oh, well, this is supposed to be ancient Rome, isn't it?

But when you think of it, Pseudolus establishes right up front that we're seeing a repertory company in a comedy; thus, this concept that actors are tools in a box is in keeping with a troupe that will be playing Medea later this week.

There were some touches that I'd never seen in any Funny Thing before. "Yeah, that's the problem," groused Jay – but I was greatly amused when Philia sang that "Lovely is the one thing I can do" while holding up two fingers as she sang "one." Better still, a bit later when she was told that she was to wait inside the house until she heard three knocks, Philia wanted to boast that she knew how many three is – by again holding two fingers but also extending out one foot. I laughed heartily with everyone else (except, of course, Jay).

"Will they do 'Pretty Little Picture,' Jay had asked before the show. Good point – the Nathan Lane revival dropped it – and before you can say, "No, it's right there on the revival cast album," be apprised that, yes, Lane & Company recorded it for posterity's sake, but it never made any of the 715 performances that Broadway saw from 1996 to 1998.
Nathan Lane, Mark Linn-Baker, Ernie Sabella and Lewis J. Stadlen in the 1996 Revival at the St. James Theatre (Press © Boneau/Bryan Brown)

Indeed, "Pretty Little Picture" was included, and when Pseudolus reached the lyric "Soon there's nothing by sea and spray," some performers surreptitiously brought out atomizers and sprayed away. From the way Jay groaned, you'd think they'd sprayed him.

For "Everybody Ought to Have a Maid," the directors apparently felt that indeed the performers should have one, so Pseudolus came into the audience and plucked a woman out of her seat to come on stage and cavort with them.

"I HATE when they do that!" Jay roared. Well, Jay, that's the difference between you and the audience, which mightily applauded the lass. Theatergoers l-o-v-e when they can see something they couldn't possibly get at the multiplex or on television – and this come-on-down moment certainly applied. That Jane Q. Public acquitted herself nicely also gave them the confidence that if they'd been asked, they'd do just as well.

No one can really complain that the actors were suddenly breaking the fourth wall – because the first line of the show establishes that: "Playgoers, I bid you welcome!" All night long, the actors looked, stared or leered at people in the front rows. What's more, after John James Pirroni's Hysterium finished "I'm Calm" and the audience began its appreciative hand-clapping, his reaction brought to mind a similar one that "Rose's Turn" gets in Gypsy: Pirroni turned to the audience and fully acknowledged that he was getting applause -- and basked in it.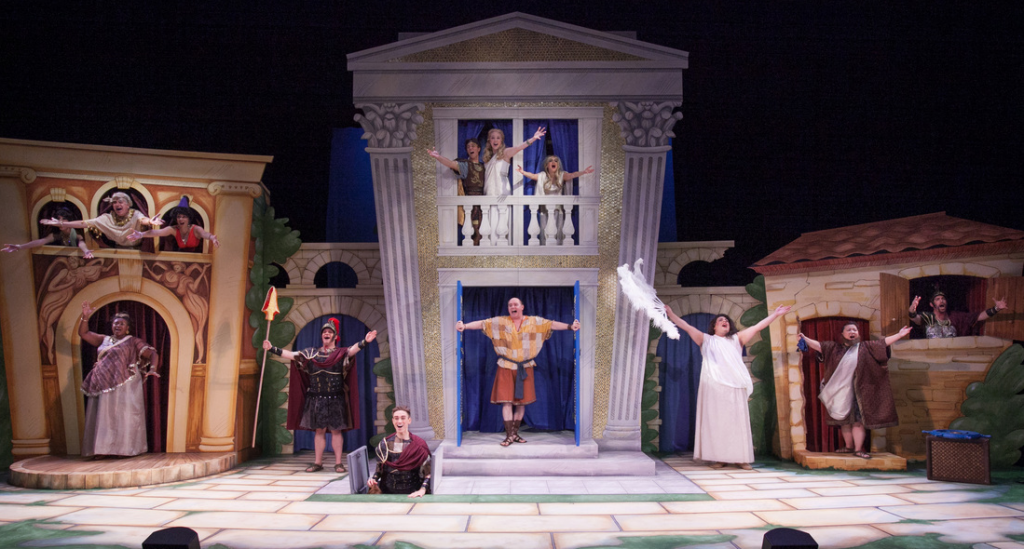 The cast of ...Forum at the Stoneham Theatre in Massachusetts (Photo Credit: Mark S. Howard).

Symes and Robbins weren't above having Hero wave his hand in front of his scowling face when singing in "Impossible" that his father has "gas." Before the onslaught of fart-jokes for which we can "thank" Roseanne for introducing in a 1989 episode, those playing Hero simply relied on the wit of the lyric to get the laugh. But this is hardly the first time I've seen that grimace and hand-wave on "gas" and I'm certain it won't be the last. Giggles greeted it here, though.

When Senex was in Erronius' house supposedly bathing for his Big Night with Philia – and had to talk to Hysterium who was outside – he opened the window and we saw an unseen machine blowing bubbles all around him. Oh, why not?

Funny Thing has never been big on choreography; it's one of the few Best Musical Tony-winners that didn't even merit a nomination. But Robbins, who choreographed, too, knows that people like to see dancing. So she included an anachronistic tap for "Bring Me My Bride" – and was rewarded with the biggest hand of the night.

Now for the 64,000 minae question: did they stick to the script?

For most musicals, this isn't ever an issue, for performers simply perform the book by the book. But after original Pseudolus Zero Mostel became infamous for fooling around – adding a line here, subtracting another there, profaning some lines for all to hear – many Pseudoli have taken their cue from him.

In 1996, I brought up Lane's tendency to ad-lib to Mark Linn-Baker, who was then playing Hysterium to his Pseudolus. "Well," he said with a slight you-ought-to-know-better smile, "that comes with the territory." Nevertheless, Lane's standby Bob Amaral was well worth seeing because he played the show as is – and Forum is terrific as is.

Casey played it straight, too -- with one tiny exception. Towards the end of the show when he was making eye-contact with a first-row attendee, she said something to him (which I, in the third row, couldn't quite hear -- and of course Jay was no longer there to help me). As a result, Casey responded sotto voce with a remark about Hillary Clinton's e-mail crisis. But I honestly believe he would have stuck to chapter and verse of Burt Shevelove and Larry Gelbart's book had he not been fed what was apparently a funny line.

But even here, the audience responded with healthy guffaws. Admittedly, they were ones that said "No one would ever mistake that heavy-set galoot for that lithe lady, but we know what you're getting at, and that's good enough for us." So guffaw they did.

As the cast concluded the show with a kick-line during the last lines of the "Comedy Tonight" reprise, the audience -- you guessed it -- clapped in rhythm, the ultimate compliment that shows delight. Now maybe the theatergoers were in a good mood at this Friday night performance because the work-week had ended and seeing something utterly undemanding simply hit the spot.

But what difference does it make? Here is the moral, wrong or right: Shevelove and Gelbart's book may well be the funniest in Broadway musical theater history and the score is by Sondheim, whose name alone ensures songs of unforgettable quality. So you probably can't go wrong with any production of Funny Thing that you may mount with whatever "improvements" you make.

You may e-mail Peter at pfilichia@aol.com. Check out his weekly column each Monday at www.broadwayselect.com, Tuesday at www.masterworksbroadway.com and Friday at www.kritzerland.com. His book The Great Parade: Broadway's Astonishing, Never-To-Be Forgotten 1963-1964 Season is now available at www.amazon.com.