Filichia Features: A Way to Make A Funny Thing…Funnier
Filichia Features: A Way to Make A Funny Thing…Funnier
The Situation
Let's not blatantly state that many directors of A Funny Thing Happened on the Way to the Forum make an error when dealing with Erronius.
But if they'd seen the way that original director George Abbott (or perhaps show doctor Jerome Robbins) handled the character in 1962, they just might borrow that staging.
The specific moment in the show I'm referring to is when Erronius, (back from his fool's errand) makes his entrance on stage an hour into the show.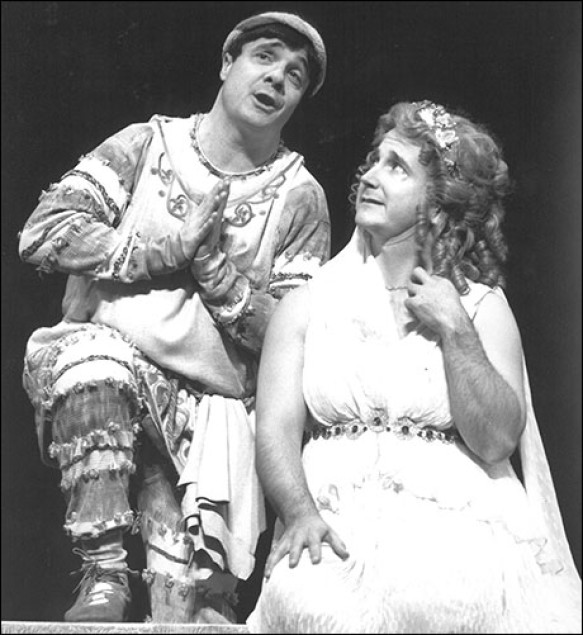 Nathan Lane and Mark Linn Baker in ...Forum at the St. James Theatre (Photo by Joan Marcus)
The Buildup
Erronius, you recall, is a befuddled old man who's spent years searching for his infant son and daughter who had been abducted by pirates more than twenty years earlier. We first learn of Erronius and his plight in "Comedy Tonight," one of Broadway's best and brightest opening numbers. But we don't meet the man for some time -- until eight of the 10 first act songs have already been sung.
(Wise move by bookwriters Burt Shevelove and Larry Gelbart. If we'd met the poor soul at the start of the show, we'd feel bad for him. By the time an hour has passed, we know that Funny Thing is just a laff-a-second romp that we don't have to take seriously.)
Funny Thing fans (and aren't we all?) recall that after wily slave Pseudolus has shunted his master Senex into Erronius' house, who unexpectedly shows up but the man himself? NOW what?!
To get rid of him, Pseudolus claims he's a soothsayer. He tells Erronius that before he can issue any sooth, the man must encircle the seven hills of Rome a full seven times.
And off Erronius goes.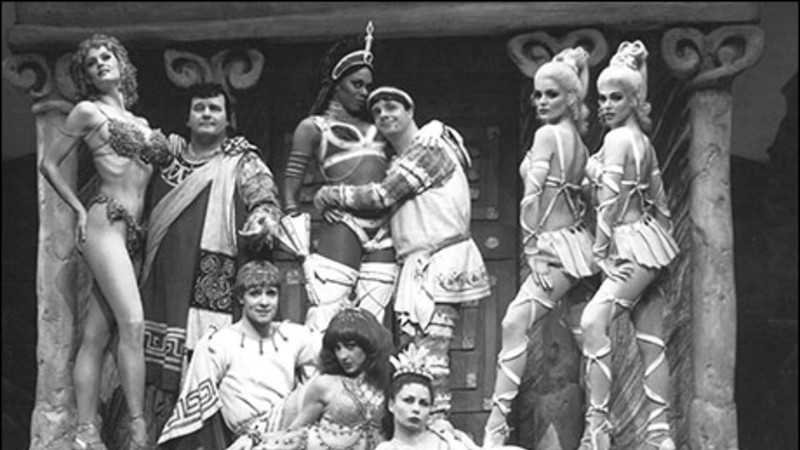 The cast of  ...Forum at the St. James Theatre (Photo by Joan Marcus)
The Erronius Entrance
We return to the convoluted plot featuring misunderstandings, mistaken identities and plenty of hijinks.
The virgin Hero, in love with the virgin Philia, sees her looking longingly at Senex, his father, whom she's mistakenly assumed to be Captain Miles Gloriosus, her purchaser. Senex isn't happy that Philia also looked favorably at Hero.
Next a Soldier announces that Miles is only a few miles away and expects that Philia will immediately be brought to him. But Pseudolus has been trying all show long to get Philia for Hero, who'd then in gratitude grant Pseudolus his freedom. So he pretends to be Marcus Lycus, the "merchant of love" who's glad to be off the hook in fear of what Gloriosus will do if he learns that Philia has the plague. (She doesn't.) So Lycus starts moving his beauteous courtesans from one house another.
In the original production, perhaps we were distracted by the courtesans that we didn't notice a little man running on, reaching center stage and quipping "First time around!"
How well I remember the silence as theatergoers struggled to remember who this character was and then, only seconds later when he was three-quarters across the stage, their laughs exploded loud and clear as everyone remembered that Erronius had been sent on this fool's errand.
I've now seen 16 subsequent productions of Funny Thing -- three in the last year alone and one just last week -- and I've never seen this staging replicated. What I've always seen instead is that Erronius s-l-o-w-l-y enters stage right, stops, looks at the audience, states "First time around!" and then shuffles off into the stage left wings while everyone else in the cast watches and – here's the rub -- waits.
His taking his sweet time to the leave the stage stops the action DEAD.  All 16 of those actors playing Erronius got a laugh as soon as he said his line stage right. But none of the laughs was as big or rewarding as the one Raymond Walburn got in the original production, when we had to catch up and remember the identity and purpose of this guy speeding by.
The Recommendation
Both Abbott and Robbins were masters of comedic timing, and their handling of Erronius's adrenalin-induced entrance is the perfect complement to the flurry of action taking place on stage.  For maximum comedic effect, do not slow down Erronius's entrance, speed it up, just as either Abbott or Robbins did.
You may e-mail Peter at pfilichia@aol.com. Check out his weekly column each Monday at www.broadwayselect.com and Tuesday at www.masterworksbroadway.com. His book, The Great Parade: Broadway's Astonishing, Never-To-Be Forgotten 1963-1964 Season is now available at www.amazon.com.